Mobile Casino at Lucky Creek
One of the greatest inventions of our time is the unassuming smartphone. A relatively small, rectangular device that, at the touch of a button, can make a call, send or receive an email, order food for delivery, buy whatever you want, play games, play movies, and, most importantly, let you enjoy your favorite online casino – like Lucky Creek online casino.
Life these days moves pretty quickly. Everyone is always on the go, hustling to get things done. It can be hard to find time to sit down and enjoy your favorite online casino. But, thanks to our incredible mobile casino, you don't have to worry about that. You can take Lucky Creek with you wherever you go. Standing in line at the bank? Running errands? Engaging in a little retail therapy? Riding the bus or train to work? Why not wile away some time with your favorite game? Everything you know and love about the desktop casino is available at our online casino for mobile. From the Live Dealer lounge to the Leaderboard and all our amazing promotions – at Lucky Creek casino, you really can have your cake and eat it too.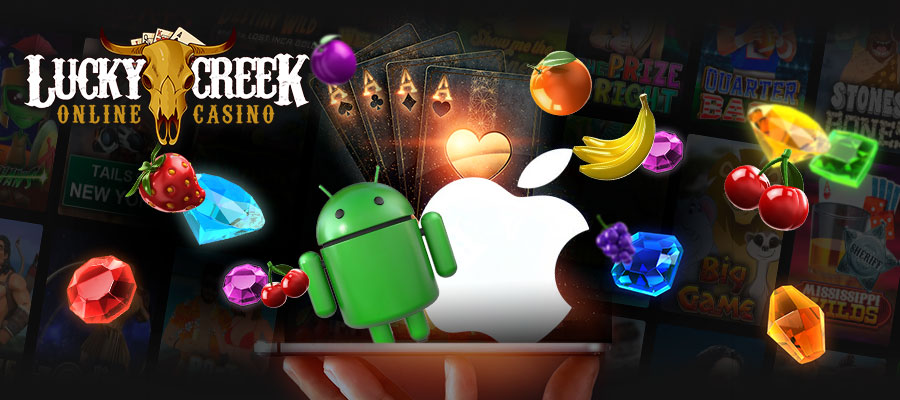 Mobile casino on Android or iPhone
At Lucky Creek casino, we don't discriminate based on the type of smartphone you prefer. Whether you're an iPhone or an Android user, you can still enjoy the same high quality games, high-octane spins, and massive payouts that Lucky Creek is known for. We have an iPhone casino app and an Android casino app, to cater for every kind of player. No matter where you are in the world, or how you choose to play, Lucky Creek has your back.
Mobile casino games
Some of the games available on our online casino for mobile include 2 Million B.C., 7 Chakras, Alpha Squad, At the Copa, Alpha Squad: Double Cross, Band Outta Hell, Great White Buffalo, Dead Beats, Bucksy Malone, and more! You can also play all your favorite table games like online blackjack, online roulette, online baccarat, and video poker, and you can even join the fun in the Live Dealer Lounge, where the tables are hot and the winning is easy.
The invention of the smartphone changed the game. Not just for online casinos, but for every industry across the globe. Now, you never have to leave your house – all your shopping, reading, movie-watching, and entertainment is right in the palm of your hand.
Mobile casinos are a growing industry – as online casinos become a firm favorite with players around the world, so to do mobile casinos. Not everyone has access to a desktop computer or a land-based casino, but a huge percentage of adults around the world have their own smartphones. That's why the Lucky Creek team has put time and energy into making our mobile casino as awesome as our desktop site. Playing on a smaller screen shouldn't mean you have to compromise on quality and it certainly doesn't mean smaller wins. You can still join all your favorite promotions – like the current $50,000 Leaderboard, Live Dealer Cashback, Happy Hour, Payday Payout, and so much more.