Real Money Online Casino Android App
As technology advances and our world continues its march towards 'global village' status, where people on the other side of the world are no more than a video chat away, so too does our reliance on our smartphones grow. These enchanting, little devices are our window to the world, giving us access to everything from online shopping, reading, and socializing, to visiting your favorite online casino while you stand in line at the bank and play on an android casino app.
One of the giants of the smartphone world is Google, the company behind the smartphone operating system known as Android. Android smartphones are massively popular around the world and, because of their prevalence, the popularity of the Android casino app is also growing. More and more people are turning to real money casino Android apps to play their favorite games.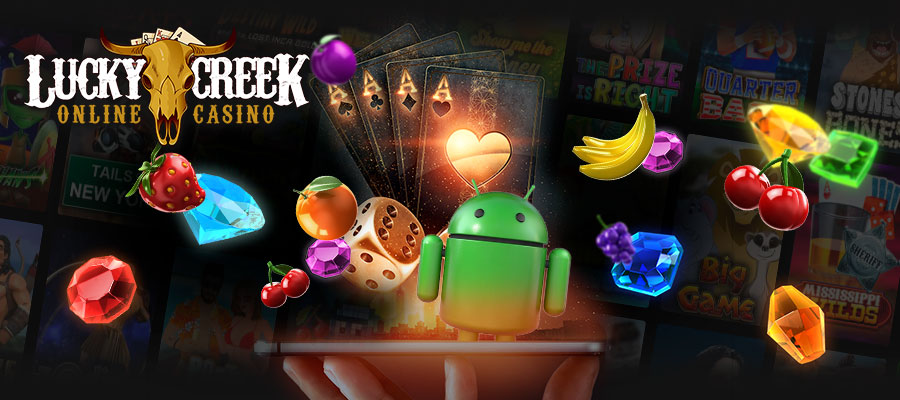 Android casino app experience
Here at Lucky Creek online casino, our mobile casino Android app is one of the best. We're not ones to compromise on quality, no matter what device you choose to use when you play with us, and so, everything that is available on our desktop site is available on our casino Android app.
But what makes it the best casino Android app? Well, here are six ways in which we offer up an incredible mobile gaming experience when you play via our casino Android app:
Safe and Secure Banking
Crystalline Graphics
Uninterrupted Gameplay
Variety of Games
High-Paying Bonuses
Phenomenal Customer Service
No online casino worth its salt can afford to compromise on its banking services. Keeping your hard-worn cash safe and secure is one of our top priorities, and that is true for our real money casino Android app as well. We offer up reliable deposit and withdrawal options, as well as the promise that you have total peace of mind when you play with us.
Android app quality
One thing that often falls by the wayside when you enter your favorite online casino via an app is that the quality of the games you play suffers. Many games are not optimized for smaller screens and, as such, your gameplay is unpredictable and erratic. Not so with Lucky Creek's Android casino app. We only work with the best providers to ensure that all of our games are optimized for mobile gameplay. Every game available on the desktop site – like 7 Chakras, Great White Buffalo, 7th Heaven, and table games like online blackjack and online roulette – are available on our Android app. You can even enter the Live Dealer lounge to get your fix of red-hot casino action!
Android app bonuses
And don't think you'll miss out on any of our exceptional bonuses when you're playing on the best casino Android app in town – they're all available on the app and ready whenever you are to help you hit it big!
And we don't compromise on support either. Our highly-qualified customer support team is ready and waiting to help you over any major or minor speed bumps – all you have to do is give them a call and let them work their magic.
Everything you could ever want or need is at your fingertips with Lucky Creek's real money casino Android app.